Southern Baptist Messianic Fellowship News
Ho-doo L'adonai key tov, key l'oh-lahm chas-doe.
Give thanks to the L-rd for He is good, and His mercy endures forever.
---
The 2011 SBMF Encampment

Meeting Was Held At:

CrossPoinTempe Church

1001 E Southern Ave. Tempe, AZ 85282

Phone: (480) 838-5700 -- Fax: (480) 838-5928

E-mail: office@crosspointempe.org

June 10th to the 11th, 2011

This Year's Theme Was: Spiritual Warfare

The following is only a summary report of the events in Phoenix.

"... for the devil is come down unto you, having great wrath, because he knoweth that he hath but a short time." [Revelation 12:12 KJV]

For we do not wrestle against flesh and blood, but against principalities, against powers, against the rulers of the darkness of this age, against spiritual hosts of wickedness in the heavenly places. [Ephesians 6:12 NKJV]

Fight the good fight of faith; take hold of the eternal life to which you were called, and you made the good confession in the presence of many witnesses. [1 Timothy 6:12 NASU]

But you, be sober in all things, endure hardship, do the work of an evangelist, fulfill your ministry. [2 Timothy 4:5 NASU]

Finally, be strong in the L-rd and in the strength of His might. Put on the full armor of G-d, so that you will be able to stand firm against the schemes of the devil. For our struggle is not against flesh and blood, but against the rulers, against the powers, against the world forces of this darkness, against the spiritual forces of wickedness in the heavenly places. Therefore, take up the full armor of G-d, so that you will be able to resist in the evil day, and having done everything, to stand firm.

[Ephesians 6:10-13 NASU]

The complete outline of this Erev Shabbat preaching is published at the SBMF Web Page located at: http://www.sbmessianic.net/News061011AMPreaching.shtml

We had a wonderful time in Phoenix, Arizona.
---
Special Thanks to Brother Bruce Rapp, Branch Director for Jews for Jesus Phoenix, AZ. and Pastor Bob Dodridge of CrossPoinTempe Church in Tempe, AZ.
Brother Bruce arranged with his pastor for us to hold our meetings at CrossPoinTempe Church. Brother Bruce also spoke at our meetings.
| | |
| --- | --- |
| | Brother Bruce is holding up a copy of the movie "Flowers Of The Son". Brother Bruce spoke about this movie during our meetings at his home church. The Southern Baptist Convention let Jews for Jesus have a room in the convention center to show two films to Southern Baptists who came to view the films. |
It was a blessing to fellowship and worship with Brother Bruce and some of his staff at our meetings.
---
The SBMF Annual Meeting Music Worship Leaders were:
Greg & Frankie Smith.
| | |
| --- | --- |
| | Brother Greg and Sister Frankie Smith led the worship and did a wonderful job of bringing us to our spirits. They were assisted by Brother Mike Saffle and Sister Gwenn Worshill. |
---
The Teaching For This Years Erev Shabbat, June 10th, Was From:
Brother Ric Worshill
Brother Ric serves as the elected SBMF Vice-president. He is a Police Chaplain and a SBC Disaster Relief Chaplain. Police Shomreem Ministries is the ministry that he leads.
Brother Ric Worshill

spoke about spiritual warfare and our role in the battle we fight. Above is a sample of that teaching. Fill yourself with food from the tree of life.

Your words were found and I ate them, And Your words became for me a joy and the delight of my heart; For I have been called by Your name, O L-rd G-d of hosts. [Jeremiah 15:16 NASU] Read and know G-d's Word.

A Reminder: "Peter Deyneka Jr., founder of the Slavic Gospel Association often reminded believers that where there's much prayer, there's much power!. Where there's little prayer, there's little power, and where there's no prayer, there's no power..." (Pastor Dan Fritz)
Link to web page: Police Shomreem Ministries
Facebook Link: Police Shomreem Ministries - Chaplaincy
---
The Guest Speaker For This Years Yeshiva Day Service Was:
Dr. H. Bruce Stokes
Brother Bruce serves as the SBMF Ministry Training Manager. He also serves as the congregational leader of the Disciple Center (http://www.disciplecenter.com/) in Anaheim Hills. Brother H. Bruce Stokes, Ph.D. is Dean of the School of Behavioral Sciences at California Baptist University in Riverside. He serves as the Vice president of the Union of Messianic Jewish Congregations and as an advisor to the Administrative Board to the International Messianic Jewish Alliance.
| | |
| --- | --- |
| | One of the points that Brother Bruce stressed came from 2 Corinthians 2:11. "So that no advantage would be taken of us by Satan, for we are not ignorant of his schemes." Brother Bruce taught that Satan has two primary schemes. One is deception and the other is to sow discord among the believers to destroy our unity. Satan is not an equal in battle with G-d. He illustrated this part of his message in Revelation 20:1-4. It only took one angel to bind Satan. That angel was sent by G-d. We must get into the Word of G-d in order to be prepared for the real battle. Satan misuses the Word of G-d. This was illustrated in Luke 4:1-13. Know G-d's Word! |
---
The Havdalah / Evening Praise and Worship Teaching Was Given By:
Brother Mike Saffle serves as the elected SBMF President and the Congregational Leader of Shalom Adonai Messianic Fellowship, Wichita, KS.
| | |
| --- | --- |
| | Brother Mike's heart is truly for the lost. His love for Israel and her people is matched only by his desire for all lost people to come to faith In Yeshua. Mike knows that the Enemy of the soul, Satan, desires to destroy the Jewish remnant. Brother Mike encouraged us to fight on and be filled with the Word of G-d. Fear not and know that G-d is G-d. Read G-d's Word in your Bible. |
Ministry Web Pages Links:
Shalom Adonai Messianic Fellowship
SBC Link To Shalom Adonai Messianic Fellowship
---
Powerful News about NAMB and the SBC Annual Meetings.
On May 23rd to the 25th 41 leaders of the ethnic groups affiliated with SBC were invited to a meeting at the North American Mission Board in Alpharetta, GA. Brother Ric Worshill was assigned by SBMF President Mike Saffle to attend. While we were there NAMB President Kevin Ezell spoke to us. We also received a training about "Send North America" from the Church Planting team. During that meeting at NAMB we all committed to signing a document with the Executive Committee related to an Executive Committee recommendation about ethnic diversity.
See the following Baptist Press News Article that explains the document that we signed: http://www.bpnews.net/bpnews.asp?id=35536
On June 13th SBMF Mike Saffle and Vice-president Ric Worshill went to the SBC Executive Committee meeting to sign the document along with the leaders of the other SBC Ethnic Ministry Leaders, the Leaders of the SBC Entities, the State Associational Directors and members of the SBC Executive Committee. On June 14th Brother Mike and Brother Ric went up on the stage with the others to affirm our commitment with SBC. The membership voted to pass this resolution.
Please see the photograph below. If you look to the left of the flag you will see Brother Mike and Brother Ric.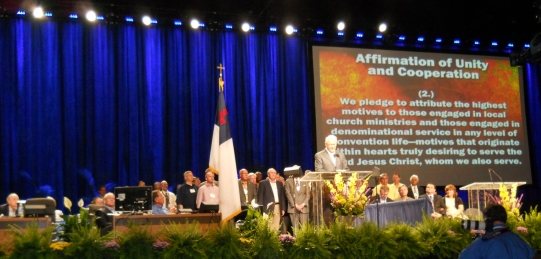 To see the video of the SBC Executive Committee Report, presented by Dr. Frank Page look at the "SBC EC Report (1)" located at:
http://mediasuite.316networks.com/player.php?p=s9c3yg3a
In the middle of this video you will see Dr. Page call all the Ethnic Ministry leaders onto the stage to stand with him while he reads the Affirmation of Unity document that we all signed. You will see Brother Mike Saffle (SBMF President) and Brother Ric Worshill (SBMF Vice-president) along with other ethnic ministry leaders and several other leaders from SBC. This was a blessing and a long time prayer answered.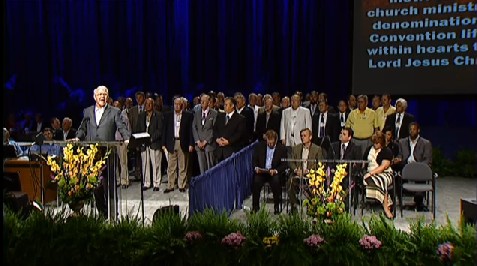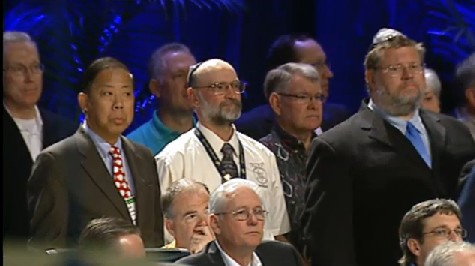 After the ceremony on the stage Dr. Frank Page (President of the SBC Executive Committee) came back stage to meet with all of us and stand for photographs. We gave him a white kippah. The photos below illustrate Dr. Page placing it onto his head. Baruch ha'Shem Yeshua. What a blessing. Please read the above Baptist Press article.
Hineh matov umahnaim, shevet akhim gahm yahchad. [Psalms 133:1]
Behold how good and pleasant it is for brothers to dwell together in unity.
---
News Articles
Please see the following links for news about the 2011 SBMF Annual meeting in Phoenix, AZ. Several North American state associational papers have forwarded these articles to their mailing list. While we were at the SBC Annual Meeting we were interviewed on two Christian Radio Stations. As soon as those links are available we will publish them in this section of this web page.
Please click on the links below to view these articles.
SBC Baptist Press
http://www.bpnews.net/bpnews.asp?id=35588
http://www.bpnews.net/bpnews.asp?id=35154
Biblical Recorder
Messianics Discuss Spiritual Warfare
http://www.biblicalrecorder.org/post/2011/06/21/Messianics-discuss-spiritual-warfare.aspx
Pastors aspire to join God's activity
http://www.biblicalrecorder.org/post/2011/05/02/Pastors-aspire-to-join-Gode28099s-activity.aspx
Ethnic leaders: 'different ships, same boat'
http://www.biblicalrecorder.org/post/2011/06/08/Ethnic-leaders-e28098different-ships-same-boate28099.aspx
The final of the messengers approving seven SBC Executive Committee recommendations - www.biblicalrecorder.org
Affirmation of Unity Document Recommendation News
"The final recommendation was a response to motion made during the 2009 annual meeting, directing the Executive Committee to study greater involvement in the convention by ethnic churches and leaders. The proposal offered 10 specific points "designed to foster conscious awareness of the need to be proactive and intentional in the inclusion of individuals from all ethnic and racial identities within Southern Baptist life."

"The points included encouragements to make committee appointments and select program personalities that represent the diversity within the convention, "particularly ethnic diversity." A failed attempt to amend the recommendation, brought by Channing Kilgore of South Whitwell Baptist Church in Whitwell, Tenn., would have replaced ethnicity with "Gospel minded" as the criterion for selecting committee appointees."
---
SBMF Business Meeting
The SBMF 2011 elections reflect our cooperation with NAMB and SBC. You will see that we have structured the leadership of our fellowship to work along with the NAMB project "Send North America". We started this process last year as we elected and assigned Regional Directors to match the NAMB regions of North America.
Missions Development Manager Rob Bohning, his wife Marjie, Regional Director Hal Garrett and his wife Esther, Ric and Gwenn Worshill attended the "Send North America" luncheon. There was a large room filled with SBC Brothers and Sisters. The group included, congregational leaders, ethic fellowship leaders, associational leaders and state associational leaders. There were others in attendance also. We were encouraged to come along side NAMB so together we "Mobilize, Equip and Plant" new churches, using evangelism and leadership development. There were three main speakers.
Below is the list of the 2011 elected executive officers and regional directors. The list of regional directors reflects our commitment to serve with NAMB in cooperation with the plan to plant more congregations.
List Of Elected SBMF Officers & Managers of the Executive Board

Officer's Name

Elected Office of Service

Mike Saffle

SBMF President

Ric Worshill

Vice President - Executive Director of Missions

Rob Bohning

Missions Development Manager

Randall Clark

e

Ministry Development Manager

Dr. Bruce Stokes

Ministry Training Manager

Marjie Bohning

Secretary & Treasurer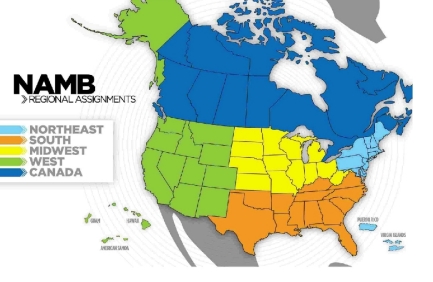 Regional Directors to match the five NAMB regions of North America
SBMF 2011 Regional Directors

Director

Region No.

Map Color

Area Of Assignment

Steve Kaplan

Region #1

Light Blue

Northeast Region, Islands

Jeff Dumont

Region #2

Orange

South Region & East

Hal Garrett

Region #2

Orange

South Region & West

Bob McDonald

Region #3

Yellow

Midwest Region

John Denson

Region #3

Yellow

Midwest Region

Robin Rose

Region #4

Green

West Region

Trevor Embry

Region #4

Green

West Region

To Be Appointed

Region #5

Dark Blue

Canada
---
The SBMF Booth Project
Baruch Ha'Shem Yeshua (Praise the Name of Jesus)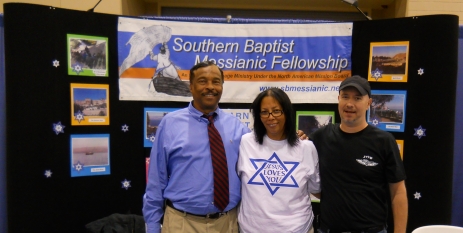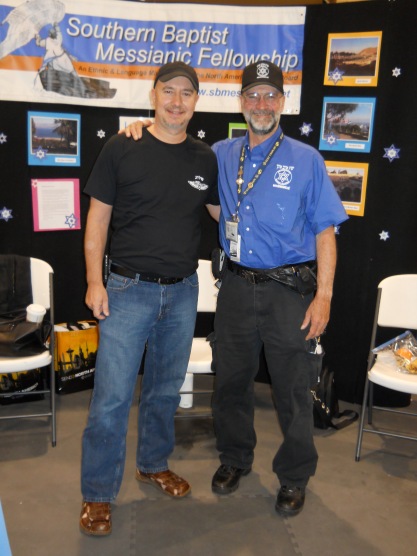 The North American Mission Board and the Southern Baptist Convention Executive Committee blessed the Southern Baptist Messianic Fellowship. They approved us to have another booth on the exhibit floor of the SBC Annual Meeting in Phoenix, AZ.
The booth project was a success. We made several connections with new friends in the SBC. We spoke to numerous church members and visitors to the SBC exhibit floor.
---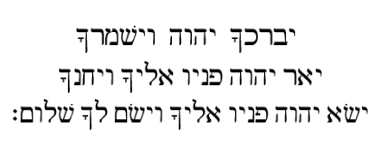 The L-rd bless you, and watch over you; The L-rd make His face shine on you, and be gracious to you; The L-rd lift up His countenance on you, and give you peace. [Numbers 6:24-26]
Shalom Alechem = Peace be with you =

Brachot vi'Shalom = Blessings & Peace = ברכות ושלום