Southern Baptist Messianic Fellowship
2019 Annual Meeting In Birmingham, AL..
Please Check This Page For
Meeting News Updates or Contact sbmf@sbmessianic.net
This Page Will Change As News Becomes Available
---
Come to the Birmingham, AL. SBMF Encampment
Disciples Making Disciples,
Who Make Disciples
SBMF Annual Meeting News From The SBMF
This year we will be meeting at a
location to be announced later for an "Oneg" Luncheon
and our 2019 SBMF Annual Meeting is during lunch
starting at 11:30 PM ET on June 9th.
Pre-registration is required.
We scheduled this event on Sunday so our members wouldn't
miss Shabbat or Shavout Services at their congregations.
SBMF ANNUAL BUSINESS MEETING
Sunday June 9th, 2019 at 2:00PM ET, after our luncheon
Luncheon Meeting at a location to be announced later for our SBMF members and their guests. We are in the process of negotiations for a venue for our meeting. Like years in the past we will be having our lunch at a local Birmingham restaurant by the Convention Center. Our SBMF Annual Meeting will follow our luncheon. Contact SBMF Executive Director Ric Worshill via email for further details. Please check the SBMF web site News Pages for updates.
We need a headcount to properly plan the event so please let Ric Worshill know if you will be attending our SBMF Annual Meeting, ASAP. We also need to know any special dining needs or food allergies so we can plan for your needs.
The SBC Executive Committee is paying for us to have space in the Many faces of SBC Booth on the Exhibit floor. We are required to have at least two (2) members on duty at the booth June 10th & 11th from 8:30AM ET to 9:00PM ET and on June 12th from 8:30AM ET to 1:00PM ET. We will need volunteers to help after the exhibit hall closes, to take down our portion of the booth.
SBC PASTORS' CONFERENCE
Legacy Arena at the Birmingham-Jefferson Convention Center
2100 Richard Arrington Blvd. North
Birmingham, AL 35203
Sunday, June 9
Session 1: 6 to 9 p.m.
Monday, June 10
Session 2: 9 to 11:30 a.m.
Session 3: 1:30 to 4 p.m.
Session 4: 6 to 9 p.m.
SBC Annual Meeting
June 11-12, 2019
Legacy Arena at the Birmingham-Jefferson Convention Center
2100 Richard Arrington Blvd. North
Birmingham, AL 35203
SBC ANNUAL MEETING CHURCH MESSENGER PRE-REGISTRATION
You can pre-register your church messengers and invited guests online for the 2019 SBC Annual Meeting. It's easy and convenient. No more waiting in long lines and filling out cards manually.
When you pre-register a church messenger online, each messenger gets a unique 8 digit "Registration code" printed on their messenger card.
Print out the messenger card, and give it to your church messenger. A copy of the messenger card will also be emailed directly to the messenger's personal email address.
The church messenger presents their messenger card to the registration desk at the 2019 SBC Annual Meeting in Birmingham, AL.
Messenger Pre-register here: http://www.sbc.net/annualmeeting/
Invited Guest Pre-registration
The SBC will require ALL ATTENDEES to visit the SBC Registration area and register as 'Guests'. To ensure the orderly flow of attendees and enhance security of the convention hall, each GUEST must be registered and properly badged for entrance into the general sessions on TUESDAY and WEDNESDAY, JUNE 11-12, 2019.
This will allow guests to receive a personalized badge and information packets regarding the Convention meetings.
If you need to be registered as a guest please contact Ric Worshill. He will register you at: http://www.sbc.net/annualmeeting/guestRegistration.asp
SBC Sponsored Hotels Information
Use this link to arrange lodging at a a SBC Sponsored Hotel
http://www.sbcannualmeeting.net/sbc19/hotels
If you would like to make reservations for lodging at another location you are welcome to do so.
DEADLINE FOR LODGING RESERVATION
Reservations must be made by May 14, 2019, in order to be guaranteed convention rate.
DEPOSIT REQUIRED
The hotel holding your reservation may charge the credit card for a deposit on or after May 14, 2019.
CANCELLATION POLICY
Reservations cancelled on or after May 14, 2019, and prior to 72 hours before arrival date may result in forfeiture of one night's room and tax.
---
Good News - Encampment is Coming in June:
KJV] [Hebrews 10:23-25 Let us hold fast the profession of our faith without wavering; (for he is faithful that promised;) And let us consider one another to provoke unto love and to good works: Not forsaking the assembling of ourselves together, as the manner of some is; but exhorting one another: and so much the more, as ye see the day approaching.
We pray that all is well with you. G-d is so good. Be healthy, be safe, be blessed, be found in Yeshua Ha'Mashiach.
---
Now that 2019 is here it's time for our members to renew their memberships to the fellowship. If you plan on being a member of the SBMF for June 2019 to June 2020 please send in your renewal check. If this is not possible at this time please submit it by our June Annual Meeting. This is a good time for interested people to become members of the SBMF.
If your membership is not up to date please send your check to SBMF, in care of our treasurer, Rabbi Hal Garrett at 406 Eastwood Cir. Walnut Ridge, AR 72476.
Here is the membership schedule:
Individual Memberships: $25 per year
Congregational Memberships: Up to 50 Members & $250 / 51 - 100 Members - $350
All active SBMF members and the members of any active SBMF affiliated congregations, with dues paid are entitled to be a members of the Lausanne Consultation on Jewish Evangelism. As active members of the SBMF you can be placed on the LCJE email list. LCJE North America 36th Annual Conference will be combined with LCJE International Conference for 2019. For more information go to http://lcje.net/Toronto2019.html. This LCJE event will be held on August 11-16, 2019 in Toronto, Canada.
Please send your address, phone number and email address with your membership check. For congregational group members please submit a list of those who want to receive LCJE news and publications. We need the address, phone number and email address to pass them on to the LCJE International.
As you know we are members of the SBC Executive Committee, Convention Advancement Advisory Council. Our Executive Director, Ric Worshill, is serving on that advisory council. Our SBMF President Dr. H. Bruce Stokes is serving on the SBC Executive Committees Ethnic Presidents Advisory Council.
There are some photos of our meetings and the SBC Many Faces of SBC Booth activity on our Southern Baptist Messianic Fellowship Facebook Page and in past event news on the sbmessianic.net\news page.
We will be serving in the SBMF part of the SBC Many Faces of SBC Booth until the afternoon of June 10th - 12th.
---
Come be a part of this wonderful time of ministry, fellowship, worship, praise and prayer.
Contact us at sbmf@sbmessianic.net
---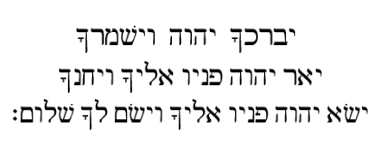 The L-rd bless you, and watch over you; The L-rd make His face shine on you, and be gracious to you; The L-rd lift up His countenance on you, and give you peace. [Numbers 6:24-26]
Shalom Alechem